Pandemic Patient (1998)
Media
Polyethylene, pvc, glass beads, paper, wood, galvanised and painted steel
Dimensions
134cm x 134cm x 220cm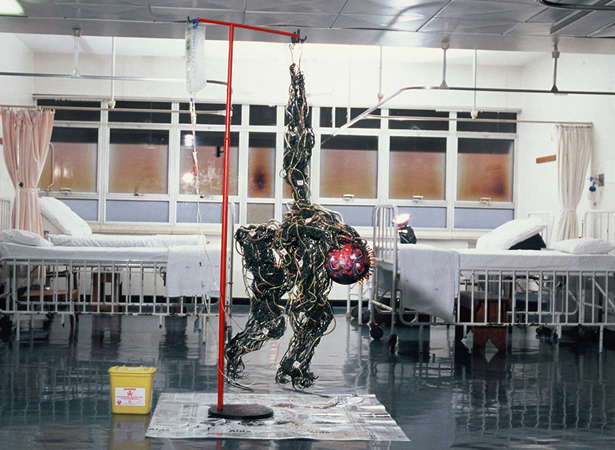 Artist's Statement
"Transgressions?": The exhibition consisted of eight large installations and sculptures by me with individual photographic interpretations by photographers Val Adamson and Barry Downard. Val Adamson photographed my works in appropriate outdoor and indoor environments and Barry Downard focused on making viewers more aware of detailed aspects of the works by producing enlarged computer-enhanced photographs of different sections of the sculptures.
In this exhibition I was exploring what we are carrying forward from the past and present into the new Millennium, both positively and negatively, and the works reflect global issues such as AIDs, El Nino, pollution, energy, war, poaching of large endangered mammals, computers and space travel. The base materials for the sculptures consisted of discarded industrial waste from factories that is used in the manufacture of functional fibre products. I chose this medium for its visual appeal and because plastic is a 20th Century invention which has impacted positively and negatively on our planet.
"In March 1998 Minister Nkosana Zuma told Parliament that 1500 South Africans were infected with HIV every day - a rate almost four times higher than in 1993. South Africa now has the fastest growing HIV epidemic in the world. The government estimates that there are about three million HIV positive South Africans, very few of whom are aware of their condition" (Southern Life "Managing your Future" Newsletter May 1998).