Death, Resurrection and Libation (1998)
Media
Polyethylene, polypropylene, galvanised and painted steel
Dimensions
300cm x 210cm x 300cm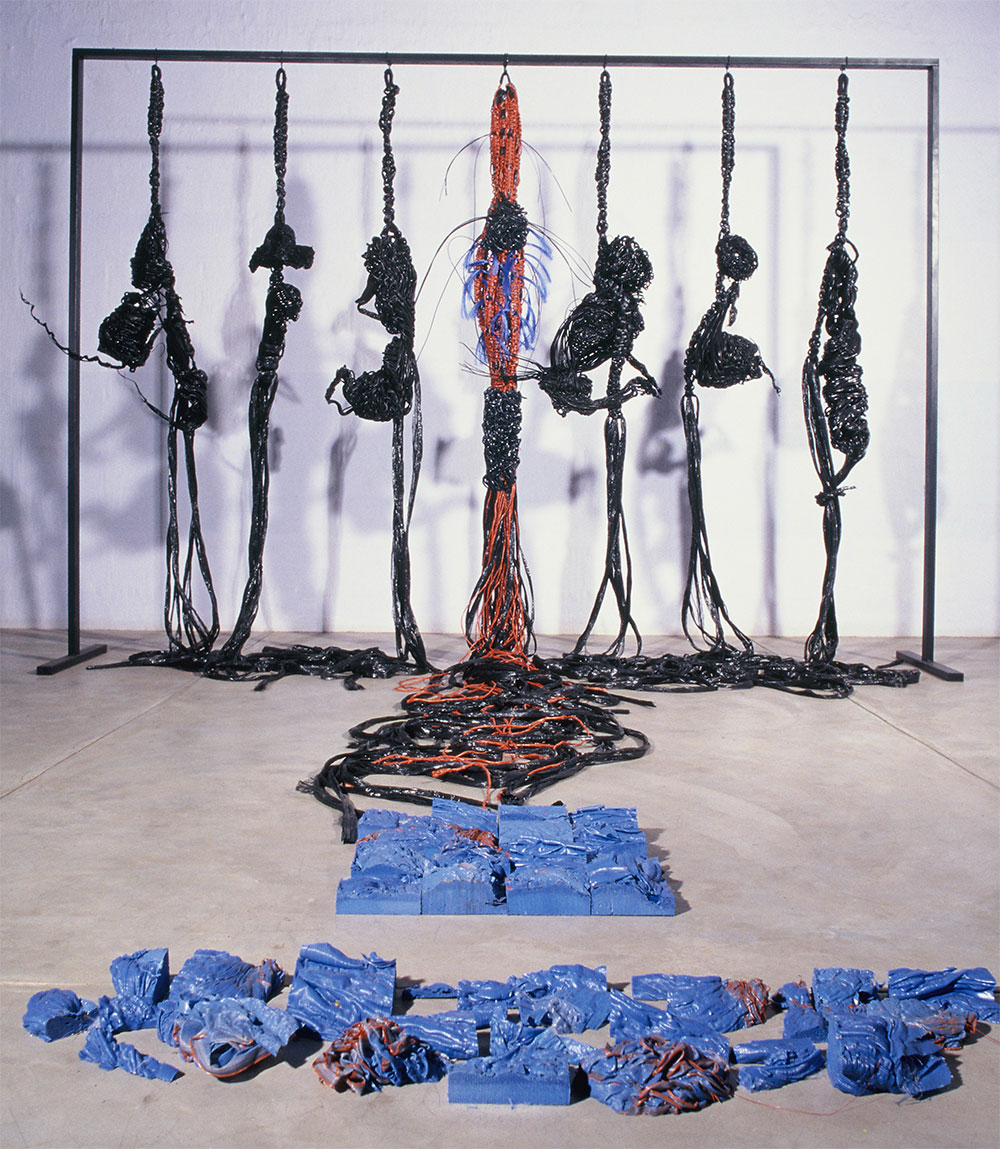 Artist's Statement
"Transgressions?": The exhibition consisted of eight large installations and sculptures by me with individual photographic interpretations by photographers Val Adamson and Barry Downard. Val Adamson photographed my works in appropriate outdoor and indoor environments and Barry Downard focused on making viewers more aware of detailed aspects of the works by producing enlarged computer-enhanced photographs of different sections of the sculptures.
In this exhibition I was exploring what we are carrying forward from the past and present into the new Millennium, both positively and negatively, and the works reflect global issues such as AIDs, El Nino, pollution, energy, war, poaching of large endangered mammals, computers and space travel. The base materials for the sculptures consisted of discarded industrial waste from factories that is used in the manufacture of functional fibre products. I chose this medium for its visual appeal and because plastic is a 20th Century invention which has impacted positively and negatively on our planet.
"Some wars and uprisings this century: 1899-1902 Anglo-Boer War; 1904-5 Russo-Japanese War; 1909 Bambata Rebellion; 1911 Chinese Nationalist Revolution; 1911-12 Italo-Turkish War; 1912 First Balkan War; 1913 Second Balkan War; 1914-18 World War I; 1916 Dublin Uprising; 1917 Russian Revolution; 1932-5 Chaco War; 1936-9 Spanish Civil War; 1939-45 World War II; 1945-9 Indonesian War; 1946-9 Greek Civil War; 1946-54 Indo-China War; 1950-3 Korean War; 1952-4 Mau Mau in Kenya; 1954-62 Algerian War; 1956 Hungarian Uprising; 1961 Sharpeville Shootings; 1965-73 Vietnam War; 1966-9 Chinese Cultural Revolution; 1966-80 Rhodesian Guerrilla War; 1967 Arab-Israeli Six Day War; 1967-70 Nigerian Civil War; 1968 Invasion of Czechoslovakia by Soviet Union; 1973 Yom Kippur War; 1975-6 Lebanese War, Soviet Union invades Afghanistan; 1976 Soweto Uprising; 1980 Iraq-Iran War; 1982 Falklands War; 1986 United States bombs Libya; 1990s Iraqi War, Bosnia-Herzegovina Wars, Rwanda Genocide, Angolan Civil War, Coups and Counter-Coups in several parts of Africa; 1998 Democratic Republic of Congo Civil War, SADC Peacekeeping Force in Lesotho".